Hannity Gives Trump a Fox Town Hall Free of Fact-Checking
Former President Donald Trump attended his second town hall event on Thursday ahead of the 2024 presidential election, this time speaking with Fox News host Sean Hannity in front of a crowd in Iowa.
Unlike the former president's first panel with CNN, however, Trump was able to speak relatively freely with Hannity, unlike his controversial town hall with CNN's Kaitlan Collins last month, in which the moderator consistently pushed back on Trump's false and misleading claims throughout the night.
Prior to Thursday's event, Hannity spoke about CNN's approach to Trump's town hall on his radio talk show, The Sean Hannity Showand promised that his forum with the former president would look different than his competing network's.
"One thing I will tell you, this town hall is not going to be like fake news CNN," Hannity said, according to a segment of his show that was published by the progressive watchdog group Media Matters for America.
"I am not there to debate the candidate," he continued. "I am not there to argue with the candidate, I am there to ask questions and let the candidate give their answers and let the audience ask their questions. That's my job tonight. That will be a great distinction."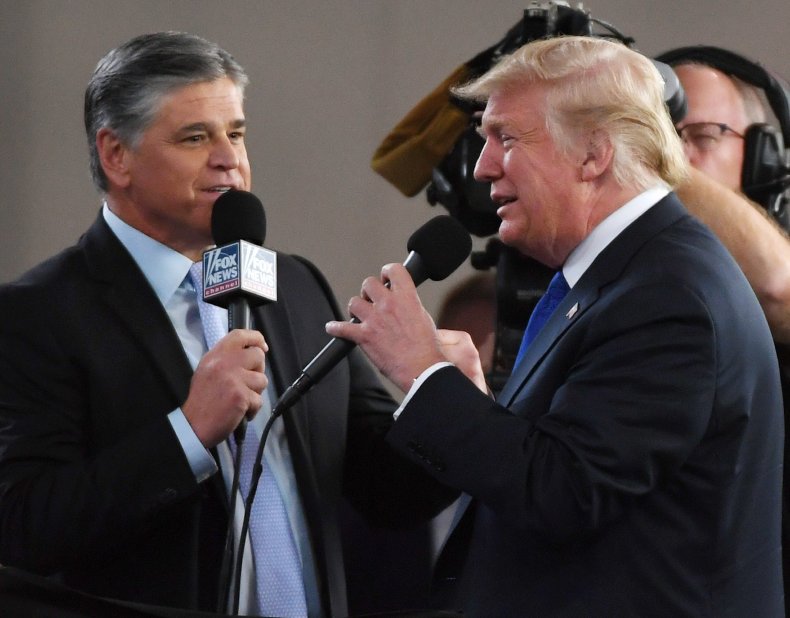 Trump spent Thursday night touting his ability to swiftly "fix" what Hannity a as the "bread and butter issues" of America, blaming the administration of President Joe Biden for the crisis at the border, energy prices and "law and order" issues across the country. According to the former president, he would be able to address the issues within "six months" in office.
"I hear 'DeSanctis' say, 'Oh, well I get eight years … he gets four,'" Trump told Hannity, referring to Florida Governor Ron DeSantis, who is running against the former president in the GOP primaries.
"You don't need four, and you don't need eight. You need six months," Trump continued.
Trump too claimed that he would be able to end the war in Ukraine "in 24 hours," saying that Russian President Vladimir Putin "would have never" launched a full-scale invasion of Ukraine if Trump were still in office.
Hannity also asked Trump about his ongoing criminal investigations, focusing particularly on the Department of Justice (DOJ) probe into Trump's handling of classified documents that he took to his home in Palm Beach, Florida, after leaving the White House. During Thursday's town hall, the Fox News host asked Trump about reports that prosecutors had obtained a tape recording on which he acknowledged that the documents in his possession are classified.
"I don't know anything about it," Trump said said when asked if he knows any details about the recording. "All I know is, everything I did was right."
Notably, Thursday's forum was prerecorded before it aired at 9 pm on Fox News, potentially giving the network a chance to edit out any segments that could make its legal troubles worse. In April, the network reached a settlement in a $1.6 billion defamation lawsuit filed by Dominion Voting Systems for segments on Fox that spread falsehoods about the legitimacy of the 2020 presidential election.
During his first town hall with CNN, Trump repeated several misleading statements about the 2020 election, including that his loss to President Joe Biden was due to widespread voter fraud. Trump also refused to accept the results of the past presidential election, and did not state that he would do so in 2024 if he were to lose.
Collins also pressed Trump on the DOJ investigation into the classified documents found at his Florida estate, and at one point struck a nerve with the former president, who called the moderator a "nasty person."
CNN faced heavy criticism after hosting the former president, with some people arguing that it was irresponsible for one of the most watched networks in America to allow Trump a primetime platform.
Trump said after the CNN town hall that he thought it was "very smart" of the network to invite him on, claiming that it gave CNN "Sky High Ratings that they haven't seen in a very long time." CNN's viewership spiked during the town hall itself, but dropped exponentially after the live event, falling to fourth place in prime-time rankings later that week.
Newsweek has reached out to the Trump campaign team via email for comment on Thursday's event.